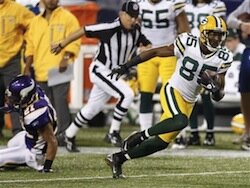 With Greg Jennings entering a contract year in 2012, many people are left wondering what to expect from the Pro Bowl receiver. While Jennings is clearly the top option for Aaron Rodgers, there is still a plethora of talent surrounding the Packer offense. The emergence of a guy like Jordy Nelson, the fifth year player out of Kansas State, who actually had more receiving yards and touchdowns than Jennings in 2011, has made the Green Bay offense less predictable and very suitable for a strong campaign from Jennings in 2012.
Greg Jennings: The $26 Million Dollar Man
After signing a 4-year/26.885 million dollar contract in 2009, Jennings has done nothing but prove deserving of such a contract. Since signing this contract in '09, Jennings has recorded 3,327 yards and 25 touchdowns and – while Nelson led the team in receiving last season – it was clearly because of the attention that Jennings received from opposing defenses. With the increased awareness of Jordy Nelson and the impressive frame of Jermichael Finley, Greg Jennings should find himself battling more single coverage or two-deep zones, which will allow him to get open more often in 2012.
Expect Jennings to pass the 1000 yard mark, adding double digit touchdowns to an already impressive career. The Packers will find themselves with the ability to spread the ball around on the offensive side, but this won't prove as a negative thing for Jennings' numbers – especially in the redzone. Jennings has the quickness that plays a major role in one of the hardest plays to cover in the NFL. When the Pack are on the goal-line, Aaron Rodgers loves to quick snap, one step drop, and hit Jennings on the quick slant. We've all seen this over and over again, and it's difficult for defenses to stop this play.
Will Jennings receive a bigger contract than the one he signed in 2009?
Obviously, it all comes down to 2012. If the Packers make the run that everyone expects and Greg Jennings produces a 1000 yard season with double digit touchdowns, he will get a similar contract to the one in '09. I can't see him receiving anything significantly less than the one he's currently under, but I can definitely see him getting a raise – barring a great 2012 campaign.
Will Jennings be the #1 option for Aaron Rodgers in 2012?
I can't see it any other way. While Jordy Nelson led the team in receiving stats last year, he won't be as much of a surprise in 2012, and therefore, Jennings won't receive the double coverage as often as he did in 2011. Rodgers will continue to spread the ball; he will undoubtedly be looking for Jennings in clutch situations. What do you guys think?
Greg Jennings: Great Expectations