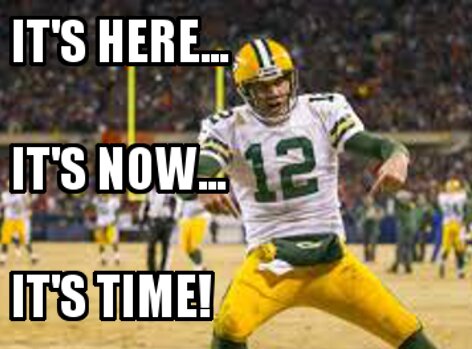 With a first-round bye and a home game at stake, Aaron Rodgers had perhaps his gutsiest performance as a Packer in Sunday's game against Detroit. After pulling up on his strained calf as he threw the first of two touchdown passes to Randall Cobb and heading to the locker room, Aaron went 17 for 22 with 2 touchdowns and posted a 139.6 passer rating. Along the way, he also called his own number on a sneak, expecting that to be the last thing that the Lions would expect…he was right.
The Packers gritted out a win against a Lions team that gave a solid helmet-to-helmet to Eddie Lacy and saw Ndomokong Suh once again give a little tromp to Aaron Rodgers. All the Packers fans who feared that this Lions team would attempt to hurt Packers players…seem to have been right.
But here's to the Packers, NFC North Champs for the forth year in a row! And here is to our quarterback, Aaron Rodgers, who looked a lot like a former Packers iron-man quarterback out there on the field today. Not afraid to play through pain…and calling his own number from the one yard line! It's what we do, folks…it's what we do.
With the win, the Packers get a much needed bye week and get a chance to get Aaron Rodgers healthy before the playoffs commence. The Seahawks beat the Rams which means this season may come full circle to the first game of the year in Seattle. This time…we hope the result will be different. But in the meantime, Aaron Rodgers and the Green Bay Packers have secured a second seed in the playoffs, a first round bye, and another all-important home game!
What say you…Packernation???
Go Pack!